Community Defibrillator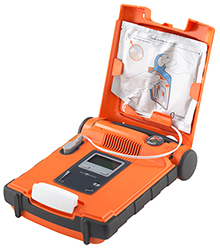 When someone has a cardiac arrest, every minute without CPR and defibrillation reduces their chances of survival by 7-10%
With your help we have been able to install a Public Access Defibrillator, which is located to the right hand side of the church's main doors. It has been registered with the Ambulance service and is ready to be used when needed.
We would like to thank all those who have supported us in fundraising for the defibrillator.
Look out for details for the official opening and also dates for our future demonstrations.
Together can we save lives.
Service Times
Morning: 10:30
Evening: 6:30
Events
January 25, 2018
January 26, 2018
January 27, 2018
January 28, 2018
January 29, 2018
January 30, 2018